Meet the Owners
Brett and Amy met at the Columbus Museum of Art. With Brett's eye for design and great customer service, and Amy's organizational skills, they opened the store in 2010.
STORE LOCATION:
144 E. State Street, Columbus OH 43215
PHONE: 614-586-1918
STORE HOURS:
Sunday 12 - 6
Monday 12 - 6
Tuesday 11 - 7
Wednesday 11 - 7
Thursday 11 - 7
Friday 11 - 7
Saturday 10:30 - 7
We Buy Collections Daily
Big or small, all vinyl collections are important to our business. If you have fewer than 200 records, you don't need an appointment, just drop in any day but Tuesday. (We don't have a buyer on staff on Tuesdays.) If you have a large collection, call us at 614-586-1918 during store hours to make an appointment. In general, we pay out 50% of our retail sticker for records kept in good condition. We also buy cassettes, CDs, pinball machines, reels, and memorabilia.
Stay Connected - Instagram
Here's Tobias from Ghost playing our Dolly pinball machine at the original location. We post stuff like this, plus the upcoming Friday (NEW VINYL) releases on Instagram.
Follow us on Instagram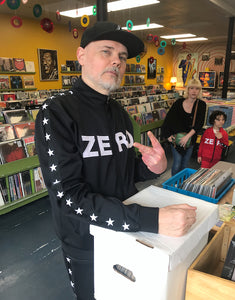 Stay Connected - Facebook
When Billy Corgan comes to visit, you are going to hear all about what he bought on our Facebook. And, yes, he is completely cool and nice in person.
We also use Facebook to tell customers about special deals, events, new releases, and incoming used collections.
Follow Us on Facebook