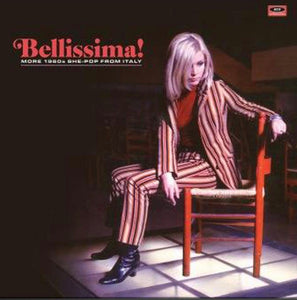 Description
Comprising soaring big beat ballads, the occasional guitar-driven nugget and other feminine pop gems of the stylish Italian variety, this much-anticipated follow-up to "Ciao Bella!" (one of Ace Records' best sellers of 2015) offers further proof that there is musical life beyond the shores of English-speaking countries."Bellissima! More 1960s She-Pop From Italy" comprises an equal mix of superstars and obscure artists, performing songs of both Italian and overseas origin. Living legend Mina sings 'Cartoline', one of several numbers custom-composed by maestro Bruno Canfora to show off her fantastic vocal technique, and her arch rival Milva delivers the stomping 'Tamburino, Ciao...', another top-tier Italian original, while highlights of the selections by lesser-known vocalists include 'È Proprio Inutile' by Meri Marabini and 'Il Beat... Cos'è?' by La Ragazza 77, groovy covers of the Hollies' 'You Know He Did' and Sonny & Cher's 'The Beat Goes On' respectively. This collection includes 14-tracks on a 180g white vinyl LP, packaged in a heavy-duty sleeve with an illustrated inner bag featuring a detailed track commentary by compiler Mick Patrick.

Track List
Le Ragazze Semplici - Orietta Berti
Cartoline - Mina
Il Volto Della Vita - Caterina Caselli
Il Paradiso - Patty Pravo
Zero In Amore - Gigliola Cinquetti
Una Stanza Vuota - Lisa Gastoni
Tamburino, Ciao... - Milva
È Proprio Inutile - Meri Marabini
Il Beat... Cos'è - La Ragazza 77
Coccodrillo - Ornella Vanoni
Se Mi Vuoi, Mi Vuoi - Catherine Spaak
Il Treno - Rita Pavone
A Me Piace Lui - Vibeke
Come Ti Vorrei - Iva Zanicchi
New, sealed.