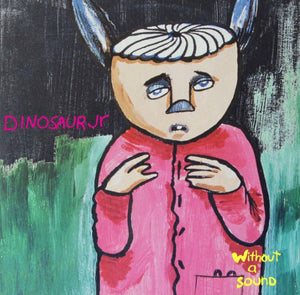 (Deluxe Edition, Expanded Version) 

 Formed in 1984, Dinosaur Jr carved a singular path through the latter half of the 1980s and early 1990s, issuing a number of highly influential albums in the process before finding a home with Sire Records. 'Without A Sound', their sixth record, emerged in the summer of 1994, in the wake of personal bereavement and the departure of longtime drummer and founder member Murph. Performed primarily by J Mascis, 'Without A Sound' continued the band's growth in popularity and commercial achievement, reaching #44 in the US (their highest ever album placing there) and featuring the hit singles 'Feel The Pain' and 'I Don't Think So'. Released to positive reviews, 'Without A Sound' also took Dinosaur Jr around the world, including dates in Australia, New Zealand and Japan, and into the mainstream as the group contributed 'Blah' to the hit US TV show 'Melrose Place'. Collected together here on vinyl for the first time with related singles and B-sides, and accompanied by in-depth sleevenotes from Mojo's Keith Cameron (based on recent and exclusive interviews with J Mascis), this edition provides a glimpse of a band at the height of their international appeal and accessibility. 

 - Disc 1 - 1 Disc 1: 2 Feel the Pain 3 I Don't Think So 4 Yeah Right 5 Outta Hand 6 Grab It 7 Even You 8 Mind Glow 9 Get Out of This 10 On the Brink 11 Seemed Like the Thing to Do 12 Over Your Shoulder - Disc 2 - 1 Get Out of This (No Words Just Solo) 2 Blah 3 Feel the Pain (Live) 4 Get Me (Live) 5 Grab It (Live) 6 What Else Is New (Live) 7 Sludgefeast (Live)
New, sealed.