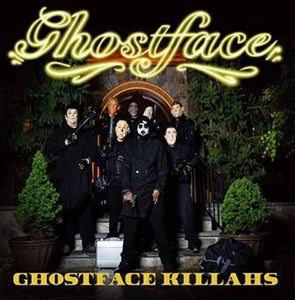 DESCRIPTION
Ghostface Killahs marks the return of Ghostface. After several side projects, GFK returns with his first true solo album in years. He is joined by fellow Wu-Tang members Method Man, Inspectah Deck, Cappadonna, & Masta Killa. Other guests include Harley, Sun God (Ghosts first born son), Solomon Childs, Shawn Wigs, and Eamon. Production is handled primarily by Danny Caiazzo. Iron Man Tone continues his onslaught of colorful wordplay, and harsh street realities, as the laser beam vocalist tells it.

This album sounds like vintage Ghostface and will prove worthy amongst any true Hip Hoppers. Proving the Wu Tang is truly forever, this is a must for any Wu fan as well as every Ghostface Killah fan. The veteran wordsmith, known for his prolific and versatile catalogue, delivers another classic album to the Ghostface and WuTang legacy.
TRACKLIST
1. Killah Intro
2. Me Denny, and Darryl (feat. Method Man & Cappadonna)
3. Burner to Burner (feat. Inspectah Deck & Cappadonna) 
4. Flex (feat. Harley)
5. News Report (Skit)
6. Conditioning
7. Fly Everything (feat. Sun God & Shawn Wigs)
8. Party Over Here
9. Pistol Smoke (feat. Solomon Childs)
10. Revolution (Skit)
11. New World (feat. Eamon)
12. Waffles and Ice Cream (feat. Cappadonna)
13. The Chase (feat. Sun God)
14. Soursop (feat. Masta Killa, Harley, & Solomon Childs)
 New, sealed.