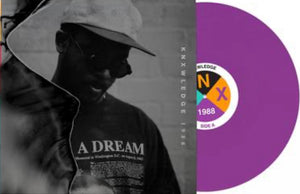 Limited Edition Purple Colored Vinyl. New, sealed.
1988 is the follow up to Knxwledge's official debut album Hud Dreems (Stones Throw, 2015). The same year Hud Dreems was released Knx worked with Kendrick Lamar on To Pimp a Butterfly, earning the producer his first Grammy. A duo with Anderson .Paak called NxWorries was formed around the same time. Their single "Suede" became a viral hit, vaulting the singer to R&B stardom, and their album Yes Lawd! followed through on that song's immense promise. Knx and Paak have quietly continued collaborating, and some of the new work is heard on 1988.
A prolific artist in the extreme sense of the word, Knxwledge continues to redefine instrumental hip-hop almost in real-time with a stream of beat tapes numbering in the hundreds on Bandcamp, and video remixes on Instagram.