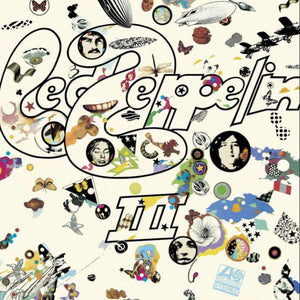 Original album on 180 gram vinyl, newly remastered in gatefold sleeve.
In 1968, John Bonham, John Paul Jones, Jimmy Page and Robert Plant formed Led Zeppelin, one of the most influential, innovative and successful groups in modern music. The band has sold more than 300 million albums worldwide with a celebrated catalog including such landmark songs as "Whole Lotta Love," "Kashmir," "Rock And Roll," "When The Levee Breaks" and "Stairway To Heaven." The band rose from the ashes of The Yardbirds, when Page brought in Plant, Bonham and Jones to tour as The New Yardbirds. In 1969, Led Zeppelin released its self-titled debut. It marked the beginning of a 12-year reign, during which the group was widely considered to be the biggest rock band in the world.
Led Zeppelin continues to be honored for its pivotal role in music history. The band was inducted into the Rock & Roll Hall of Fame in 1995, received a Grammy Lifetime Achievement Award in 2005, and a year later was awarded with the Polar Music Prize in Stockholm. Founding members Jones, Page and Plant - along with Jason Bonham, the son of John Bonham - took the stage at London's O2 Arena in 2007 to headline a tribute concert for Ahmet Ertegun, a dear friend and Atlantic Records' founder. The band was honored for its lifetime contribution to American culture at the Kennedy Center Honors in 2012. In January of 2014, the band won their first ever Grammy award as Celebration Day, which captured their live performance at the Ertegun tribute concert, was named Best Rock Album. New, sealed.
Features
Side 1
1. Immigrant Song
2. Friends
3. Celebration Day
4. Since I've Been Loving You
5. Out On The Tiles
Side 2
1. Gallows Pole
2. Tangerine
3. That's The Way
4. Bron-Y-Aur Stomp
5. Hats Off To [Roy] Harp