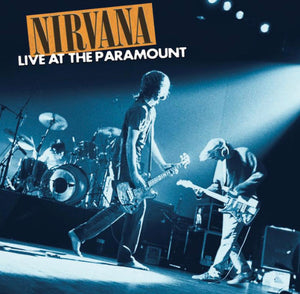 180-gram double LP! First time on vinyl!
The seminal 1991 Halloween concert

First time vinyl release ever of the October 31, 1991 Live At The Paramount concert in Seattle, Washington. All editions include a 12"x24" poster insert and a cloth sticky VIP pass replica of the original pass used that very night of the concert as the vinyl download card insert with download instructions on the paper-backing. Pressed on 2LP 180-gram vinyl. New, sealed.
| | |
| --- | --- |
| | Side A |
| | Jesus Doesn't Want me For A Sunbeam |
| | Aneurysm |
| | Drain You |
| | School |
| | Floyd The Barber |
| | Side B |
| | Smells Like Teen Spirit |
| | About A Girl |
| | Polly |
| | Breed |
| | Sliver |
| | Side C |
| | Love Buzz |
| | Lithium |
| | Been A Son |
| | Negative Creep |
| | On A Plain |
| | Side D |
| | Blew |
| | Rape Me |
| | Territorial Pissings |
| | Endless, Nameless |