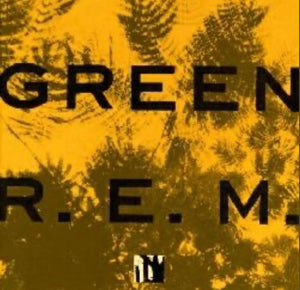 Green is the sixth studio album by American rock band R.E.M., released on November 7, 1988 by Warner Bros. Records. Produced by the band and Scott Litt, it continued to explore political issues both in its lyrics and packaging. The band experimented on the album, writing major-key rock songs and incorporating new instruments into their sound including the mandolin, as well as switching their original instruments on other songs.
Side one – "Air side"
"Pop Song 89" – 3:04
"Get Up" – 2:39
"You Are the Everything" – 3:41
"Stand" – 3:10
"World Leader Pretend" – 4:17
"The Wrong Child" – 3:36
Side two – "Metal side"
"Orange Crush" – 3:51
"Turn You Inside-Out" – 4:16
"Hairshirt" – 3:55
"I Remember California" – 4:59
Untitled – 3:10