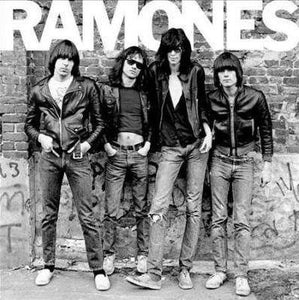 The early reviews of this record, from rotten to raving, are absolute joy to read. But some people listened to it, scratched their heads, and spun it again. And again. And again. Here's the Rolling Stone review by Paul Nelson:
14 rock & roll songs exploding like time bombs in the space of 29 breathless minutes and produced on a Republic-Monogram budget of $6400...
The next paragraph is an almost literal transcription of something the American auteurist, Andrew Sarris, wrote about Fuller in The American Cinema: Directors and Directions 1929-1968. I've just changed the names and a few terms.
The Ramones are authentic American primitives whose work has to be heard to be understood. Heard, not read about or synopsized. Their first album, Ramones, is constructed almost entirely of rhythm tracks of an exhilarating intensity rock & roll has not experienced since its earliest days. The Ramones' lyrics are so compressed that there is no room for even one establishing atmosphere verse or one dramatically irrelevant guitar solo in which the musicians could suggest an everyday existence…. The Ramones' ideas are undoubtedly too broad and oversimplified for any serious analysis, but it is the artistic force with which their ideas are expressed that makes their music so fascinating to critics who can rise above their aesthetic prejudices….

The Ramones belong to rock & roll, and not to rock and avant-garde musical trends.
New, sealed.