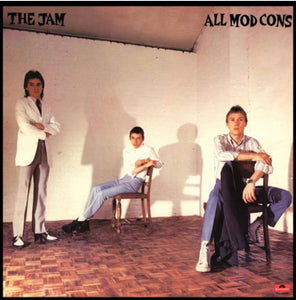 Limited vinyl LP repressing of this album by the British mod/punk trio. All Mod Cons is a 1978 album by The Jam, their third full-length LP. The title, a British idiom one might find in housing advertisements, is short for "all modern conveniences" and is a pun on the band's association with the Mod revival. The album was more commercially successful than The Jam's previous album, This Is the Modern World. The single "Down in the Tube Station at Midnight" was one of the band's most successful chart hits up to that point, peaking at #15 on the UK charts. British Invasion pop influences run through the album, most obviously in the cover of The Kinks' "David Watts". The song "Down in the Tube Station at Midnight" is a first-person narrative of a young man who walks into a tube station on the way home to his wife, and is beaten by far right thugs. The lyrics of the song "All Mod Cons" criticize fickle people who attach themselves to people who enjoy success and leave them once that it is over.
New, sealed. Brett's pick.
Side 1 - 1 All Mod Cons 2 To Be Someone (Didn't We Have a Nice Time) 3 Mr. Clean 4 David Watts 5 English Rose 6 In the Crowd. Side 2 - 1 B1 Billy Hunt 2 It's Too Bad 3 Fly 4 The Place I Love 5 'A' Bomb in Wardour Street 6 Down in the Tube Station at Midnight.