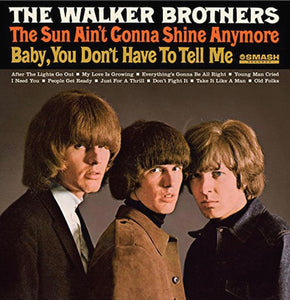 Elemental Music, together with Universal Music Spain presents the first vinyl reissue ever of The Sun Ain't Gonna Shine Anymore, The Walker Brothers' fourth studio album. Originally released in 1966 by Smash Records, The Sun Ain't Gonna Shine Anymore, was the second American release by the band, following their US debut LP Introducing the Walker Brothers (1965). This album was prepared by Smash Records label (a Mercury subsidiary and home of James Brown, Jerry Lee Lewis and Frankie Valli, among others) in order to promote the group in the United States, where they weren't still as successful as they were in Great Britain. Produced by Johnny Franz with the help of veteran British arrangers like Ivor Raymonde (who also worked with Dusty Springfield), and Reg Guest, the album is full of orchestrated ballads and soul-R&B-oriented sides, with a young Scott Walker on both songwriting and singing duties (foreshadowing his solo successful career).
The Walker Brothers weren't really British and weren't really brothers, and their real name wasn't Walker. They were Californians Scott Engel (best known as Scott Walker), John Maus, and Gary Leeds, and became huge stars in England at the peak of the British Invasion. After moving to Britain in 1965, they had a number of top ten albums and singles there, including the No. 1 chart hits "Make It Easy on Yourself" and "The Sun Ain't Gonna Shine (Anymore)", both of which also made the US top 20.
The Walker Brothers provided a unique counterpoint to the British Invasion by achieving much more success in the United Kingdom than in their home country, in a period when the popularity of British bands such as The Beatles dominated the U.S. charts. New, sealed.
SIDE A:
01. THE SUN AIN'T GONNA SHINE (Anymore)
02. AFTER THE LIGHTS GO OUT
03. PEOPLE GET READY
04. EVERYTHING'S GONNA BE ALL RIGHT
05. OLD FOLKS
06. TAKE IT LIKE A MAN
SIDE B:
01. (BABY) YOU DON'T HAVE TO TELL ME
02. I NEED YOU
03. MY LOVE IS GROWING
04. YOUNG MAN CRIED
05. JUST FOR A THRILL
06. DON'T FIGHT IT